Dunlop Aerogel 4D 200 16 x 19 Racquet - Power Balance - Babolat, Lacoste and Adidas Shoes Discount
Our Latest Email To Our VIPs!
Mention this blog post or the email to get the discounts this week.
FROM: Tennis Zone, Inc.
2713 Miamisburg-Centerville Rd.
Dayton, OH 45459
937-436-4700
info@thetenniszone.com
www.TheTennisZone.com
TO: Tennis Zone Customers
RE: Dunlop Arrivals, $99 Shoes, Power Balance
All Shoes $99 Or Less...
Greatest Dunlop Racquet Ever...
Eastern Medicine For Your Forehand...
Internships At The Zone
Greetings
Tennis Zone
Customers, and Happy Easter!
It's that time of year.
We've been meeting a lot of new and returning seasonal tennis players lately. - Here in
our shop
, through our
website
, from leads on our
blog
, and from our
Tennisopolis page
.
Our email list is getting very diverse, and that's exciting for us to get this interest and support around the globe. - We're open 24/7, Worldwide.
Remember, you won't get these deals (or money-back if you buy on the
website
) if you are not on this list.
If you're in store, tell us your email, so we can check.
If you're online, we'll already know.
Now, for the point of this post...
Treat Your Feet
You're beginning to play outdoors... more frequently... with more wear and tear on your gear.
Take care of your feet this Spring.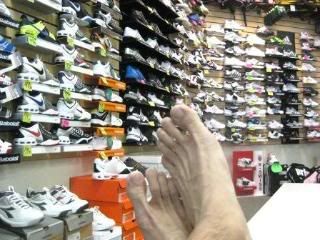 Take this opportunity to get the shoe with the best feel, because your feet need it.
Give your feet the padding, technology or special color that they need, and remember we're setting a price cap for this week.
For this week (now until 9pm on Saturday, April 18th), every pair of shoes in our store is going to be under $100.00.
Outsole warranties still apply.
Not bad.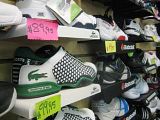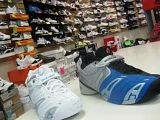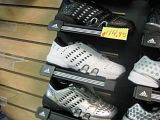 The entire
Rafa series
, the
new Babolat Propulse 2
($109.00),
the Adidas Genius Novak Shoes
($130), even the Lacoste Repel ($135 - in-store only) are available for $99.
By the way, that is for both shoes.
Oh, and our closeout shoes are still available in some sizes, so you'll find plenty for less than $99.00, especially ladies' styles.
Next weekend, we're moving on to another major sale item, so take care of the shoes this week.
16 Is More Than 18

Well, it will equal more shots in the court when you use the latest Aerogel Racquet.
Tennis's hottest racquet of the moment, the
Dunlop Aerogel 4D 2hundred in a 16 x 19 string pattern
, helps bring your powerful shot under control.
Here's why...
In the same size frame, two fewer strings make the 16 main strings further apart from each other.
There is also one fewer cross string.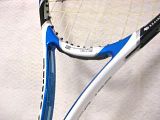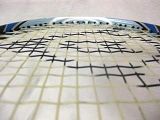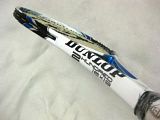 The outcome: The strings bite the ball in order to generate spin and direct the ball better.
It's just like
James Blake's racquet
, except for the string pattern.
This makes a huge difference.
Tip: string it tightly with a firm string to get maximum spin generation!
For at least the 4.5+ top-spin hitter that can't get a clean hit with a tight string pattern (18 mains), this 16x19 WILL give you more controled hits, and MIGHT even completely change your game for the better.
Sometimes, you need to take something away from your game in order to play freely.
Take away three strings from the frame, and set your game free.
This racquet is world-renowned; that's why we worked so hard to bring it here.
I believe there is one other seller of this particular frame in the United States, aside from Tennis Zone.
If you're ordering online, shipping is free (it always is with racquets), AND we're offering a free upgrade to 2nd day shipping with UPS on all orders received this week.
If you're shopping in-store, your string upgrade is free until next weekend.
There are many more promotions for the Dunlop Aerogel 4D 2hundred on the way, so stay tuned.
In the meanwhile, it's available now!
Eastern Medicine and Tennis
I have trouble talking up products that do not work.
We try not to bring gimmicky tennis technology and solutions into the Zone.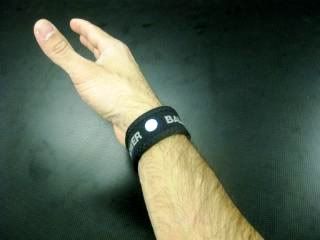 But we are convinced this next product has something to it.
Word of the
Power Balance
is starting to get around, and it's no bull.
It's a band with a little shiny hologram sewed into it.
When worn, it interracts with body frequencies to increase your agility, balance and strength.
We are receiving these this week.
World class, competitive surfers are wearing them.
Chad Johnson is wearing one.
I'm told Mark Sanchez, USC quarterback is wearing one, and swears by it.
I won't go into the science of Power Balance. - I'll leave that to
the company that makes it
.
Just come by the shop try some agility tests with and without the Power Balance, and become a believer.
A special blog post and email will be sent out to announce their arrival (very soon!) and the beginning special we're having on them.
Happy Easter, and we'll see you soon at
The Zone
.
-Samer of Tennis Zone
PS. Did you know we're looking for an intern?
Check out the
blog post
on this to find out the specs and how to apply!
Get college credit, gas money, free tennis gear and an inside look at the business of tennis!