Dunlop Aerogel 200 16x19 - Unique Tennis Rackets - Racquets
First of all, let me just say that I'm going to use to the word, "Racket" more often, instead of just using "Racquet," because we're learning that's what's being typed into searches.
So, from now on, you'll see both. - That's all.
Now, this beautiful racquet.
It's Dunlop.
It's rare.
It's not available anywhere in the United States... anywhere.
Except for
one place
Can you believe it?
Take
James Blake
's racquet, widen out the strings, take some weight out of the handle to change the balance, and you have a racquet that allows for more grip on the ball, and easier swing.
I'm very impressed with the feel.
I'm also very impressed with the paint job.
We have been meeting a lot of tennis junkies over
this racket
lately, and have had some interesting debate about weighting rackets, stringing rackets and basically loving
rackets
.
Wow, you do love your rackets.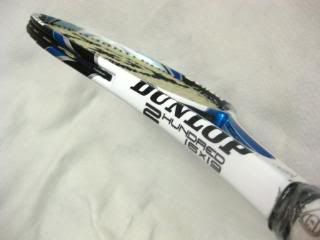 Keep in mind, we are still doing free synthetic stringing and 3rd Day (or sooner) shipping for this Dunlop until the end of April.
Play in
the Zone
.
On another note, please relax, the Power Balance is coming soon.