Andy Murray - New Head Radical Tennis Racquet - Head Rackets - YOUTEK Radical
Andy Murray
, the Scottish tennis professional, said to the tennis company,
Head
that he would switch racquets.
The plan was for
Murray
to stop using the Head Microgel Radical Tennis Racket, and start using the
Head YOUTEK Radical Pro
.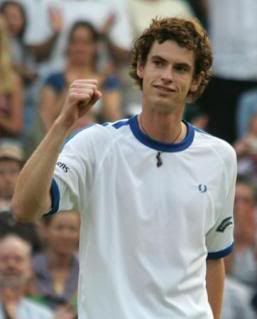 The switch was supposed to be just before
Wimbledon
.
If you've been watching, you've seen
Murray
using the old Microgel Radical, which has been discontinued!
Apparently, the Scot decided not to use the
YOUTEK
, or even do a paintjob on his Microgel.
We're told he just wanted everything about his new stick to be the same, even cosmetically, because he likes the Microgel so much.
So what we have is Head's "franchise player" who was supposed to carry the new racquet series, still playing with the old version at the biggest tournament in the world.
He's giving tons of exposure to the racquet that we don't even have anymore (We're working on finding more).
I guess now, the plan is for Murray to switch to the YOUTEK Radical after Wimbledon.
But what if he wins Wimbledon with the Microgel?
What then?
Would he really want to switch?
Either way, the YOUTEK racquets play very well, and sell accordingly.
Demo one if you don't believe me
.
I'll even throw in a free gift.
Cheap move, I know.
So the big guy isn't using it, but we'll get over it.
Email us
,
Call us
or buy the new Head YOUTEK Radicals through the
site
.
Oh, and mention this blog post to get a free Natural Gut string job.
Thanks for playing in
The Zone
.