Oh Gamma.
My relationship with you has always been one of the love-hate variety.
Renowned on the tour for great performance, I just haven't seen it, always quietly accusing you of getting caught up with gimmicks and marketing.
I personally never cared about the free hat I would receive when I got a string-job with Zo.
I used to think the best thing about your string was the durability which would allow me to hang myself after the frustration I would experience trying to get used to the string.
I'm glad I never followed through, because this new line of string is sweet.
These are like the 2.0 versions of Gamma's previous string.
They all go up a notch in each category: Power, Control, Comfort and Durability.
I would say the changes are not tweaks, but reinventions to previous versions.
Pictures and specs below:
Gamma Zo Twist
Gamma Zo is back with new features to bump its rating up in all categories: Power, Control, Comfort and Durability.
For the player looking for extra bite on the ball without compromising power, Gamma Zo Twist delivers.
With an 8 out of 10 rating in both durability and control, plus a 7 out of 10 in power, Gamma Zo Twist is one of the most talked about new strings on the tour.
Zo Copolymer polyester filament strings feature a high energy core for a crisper feel and maximum control for all types of shots. Zo strings hold tension longer and provide maximum durability.
Unlike solid, perfectly round Zo, the Zo Twist appears to have fibers wrapping around the core.
In fact, there are no extra fibers, but the string is molded to appear that way for extra spin!
Color: Black
Gauge: 16
Gamma TNT Tour 16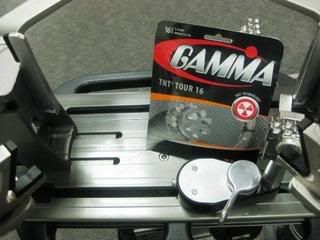 Gamma TNT Tour 16 Gauge String is one of the few strings around that give the player a ton of power plus good durability.
Wrapped in fibers and coated, this string can handle high tension, and still deliver good control and comfort.
It's a must-try for the player looking for a durable gut-like string.
TNT's Thermo Nuclear Technology allows for greater elasticity and string bed deflection to cushion the impact andstore more energy in the strings for maximum power and feel.
Gamma Monoblast 16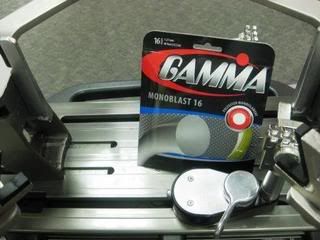 Gamma Monoblast 16 is a Polyester Monofilament string that scores an 8 out of 10 on the durability scale.
Monoblast also scores high in control for the dead feel it provides to the big-hitting, fast-swinging player.
A little softer than other polyesters or kevlar, the Gamma Monoblast 16 trades a little durability for the power and control that most wirey strings don't have.
This fine string ships to us at the end of February.
Pre-book yours now!
Color: Neon Green
Gauge: 16