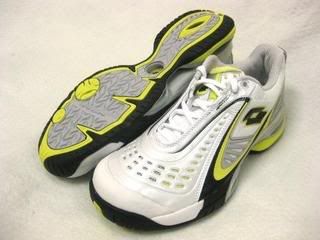 The new Lotto Tennis Shoes
are incredible!
Have you tried them? - Of course not, because they just shipped from the company to retailers like
us.
We just received them, tried them out, and loved.
This shoe, worn by Lotto's tour players like
David Ferrer
, are on the heavy side.
They're heavy because they're loaded with technology, which, to me, makes up for the heavy feel.
I'm not the biggest fan of heavy tennis shoes, but these Lotto shoes make your feet feel snug, airy, and comfortable.
Adapto technology (thermoplastic materials that mold to your feet) make the shoe fit like a glove after just a couple practices.
Yes, this is the kind of shoe you must break in, but the break-in period lasts only a couple practices or so. - After that, they'll feel like custom-built shoes!
You must have a lot of energy, strength and great footwork in order to make the Syn-Pulse Raptor work for you.
As soon as you lose intensity, you'll start to feel the weight of the shoes.
I also recommend these as training shoes to enhance your practices, and gain strength and agility, while using a lighter, gameday shoe to compete in. - Just a thought.
The shoes are now available at
www.TheTennisZone.com
, and as far as I know, there are no other American tennis companies selling this shoe quite yet.
Play in the Zone
, and keep your feet happy and content this year.