Asics Tennis Shoes - Asics Gel Resolution - Urban Outfitters Shoes - Asics Running
Taking Orders For
Old And New Asics
Hi Asics fans.
What a long day.
I worked at the shop, did a few tennis lessons downtown and then went on a 9-mile run...
...And the Asics helped me get through it all... comfortably.
At the shop, I wore the Gel Resolution 2 (far right, $90).
I broke them in, and even sold a couple (a couple shoes, so one pair).
For my lessons, I wore the Gel Resolution from 2008 (far left, $75).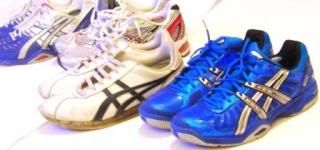 For my run, I wore the runners (second from left, $100).
You see the duct tape, I'm sure.
That's my Nike Plus receiver taped to the tongue, because I like to time my runs, but I switched to Asics for my running needs.
I then went out for the evening, and boom - three comments from three different people about my old, worn down Asics "Tigers" (second from right 85$), which I bought at
Urban Outfitters
several years ago.
Currently, we don't sell Asics through our website, but
contact us
with an order and we'll get a pair right out to you, shipped free.
Play In The Zone
, and we'll take good care of you.