Tennis Charity - Donate Old Rackets - Tennis Zone Charity - Credit Toward A New Tennis Racket - Tennis Zone
Let's face it... Rackets are expensive!
In
The Tennis Zone
's 16 months of existence, we've done some good things for the community, but we are yet to do a wide-scale project that affects a lot of people.
Here's our idea:
Bring in *any* racket that has been made in the last ten years that is in good enough condition for someone else to play with.
We'll take a look at it, and most likely, that donation will get you a $30.00 credit toward your next new racket from
The Tennis Zone
.
This credit can go toward *any* new model, full-size racket!
It's that simple, and how good will you feel?
Keep in mind, that we are not going to re-sell the rackets you bring in.
We are giving them al away.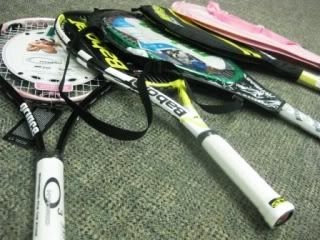 We have already been in contact with local high schools, boys and girls' clubs, the YMCA, USTA and others who are really excited about this new promotion!
This is our way of generating interest in our store, promoting the sport, giving customers a break, and of course, helping others (mainly kids) get free equipment.
You'll see signs at your local clubs, in our shop, and at your local public courts.
And of course, we're going to make a mention of it everytime we send out an email or post on our blog.
We're running this $30-Off promotion until June 30th.
We are limiting this to two per person, meaning you can get $30.00 off once on one racket, then another $30.00 off on another racket, so long as your donations are in good condition.
The promotion starts... right.... now!
So find those rackets, bring them in, help yourself, and help someone else!
If you're an online customer, send us your old racket, and we'll log your information so that when you decide to buy a new racket, you'll get the discount in the form of a $30.00 refund via paypal or to your credit card.
Questions? - Just
email me!