Discount Lacoste Tennis Apparel - Lacoste Sale - Andy Roddick Apparel - Mother's Day Gift Ideas
Lacoste is my favorite brand for tennis apparel, by far.
Since we've removed our Lacoste items from our
website
, we've been getting a lot of questions and comments from Lacoste fans wondering where they all went.
"What happened to Lacoste?"
"Where is my Lacoste?"
"Where the $%#& did the Lacoste go?"
Well, they didn't disappear.
In fact, we recently received a new shipment of Lacoste shoes, tennis gear and casual wear.
A couple months ago, we did have to take down the Lacoste items from the site, as our request to sell online has not been completely processed yet.
No biggie.
We still have it.
On top of that,
we
are throwing another big Lacoste sale this weekend, and everyone has access, even without the items being sold directly through the
site
.
Until Sunday, May 10th, every Lacoste item in the store is 40% Off!!
Look at that reduction!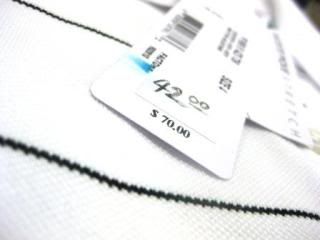 Okay, I'm done with the small talk.
Here are the ways you can get Lacoste apparel, shoes and accessories from us at a discount:
1.) Come to our
showroom
and buy it. - Easy, unless you don't live near Dayton, Ohio.
2.) Email us directly at info@thetenniszone.com with your size preference, style and color preferences or exact items you would like to buy. We'll send you a photo album with images of all our awesome Lacoste stuff.
3.) Call us at (877) 499-6638 with that same information.
4.) Fill in the
"Contact Us"
form on the site with your requests.
5.) Find us on Facebook (search "Ben Nandy") or
Tennisopolis
, and let us know what you're looking for.
Place an order before Sunday at 6pm, and you are in, before the prices go back to normal.
Place an order of $75.00 or more (shouldn't be hard to reach that amount), and get free domestic UPS ground shipping with tracking or a shipping discount if you're an international customer.
Easy, right?
Play in the zone
this weekend to save and become your mom's favorite child.
So there you go.
Other completely unrelated, yet very exciting notes:
*The ultra-hot
Dunlop Aerogel 4D 200 Tennis Racquet
in a 16x19 string pattern is only available through us.
*The new
Novak Djokovic racquets
are finally available for pre-order! (Order now, and receive free 3rd Day Shipping - You'll be the first kid on the block with the new Novak stick!)
*Buy any full-size Babolat racquet and get $50.00 off on any pair of Babolat shoes! (order through the site, and you'll see this discount automatically in your shopping cart.)
Play in the Zone!!